Vision Team | Stratford, PEI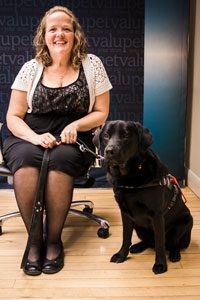 Meet one of our Dog Guide grads: Jennifer and her Dog Guide Potter from Stratford, PEI. Jennifer and Potter graduated from the Canine Vision program through Lions Foundation of Canada Dog Guides in October 2015. Jennifer has Retinitis Pigmentosa, which means that she is not able to see using her peripheral vision, and is limited to seeing what is directly in front of her. As well, Jennifer has profound hearing loss in both ears.
Jennifer is a proud stepmother to her two daughters and grandmother to her three granddaughters. She enjoys spending time with her family, cooking, listening to music, and shopping. Along with her husband, a Parkdale Sherwood Lions Club member, Jennifer works with the Lions Foundation of Canada in PEI to raise awareness about the foundation and its programs.
Before Potter came into Jennifer's life she had difficulty in navigating daily tasks on her own and did not feel safe. Due to her sight and hearing loss, she did not feel confident independently doing everyday tasks that many would take for granted, such as walking to the grocery store.. Since Potter came into her life she has been able to enjoy independence, "We have lived in our area for a few years now and this is the first time I have felt confident enough to go there on my own, with Potter as my guide," says Jennifer. "The store is a couple of kilometres from our house and involves crossing the busy TransCanada highway, the feeling of doing just that trip independently can't be explained."
Potter is more than just a Dog Guide in Jennifer's life. He is her support and companion, who is tail-wagging happy to put on his harness each day. "He is my independence, I trust him and feel safe when we are working that he is going to guide me properly," remarks Jennifer, adding that "prior to guide dogs, when l left the house I always wanted to have someone with me because I didn't feel safe on my own, even with the white cane – now I can go and feel secure and know that he is great at his job and will work properly."
Although Jennifer and Potter have a new relationship, he has made a huge impact in her life. "He is my independence, I trust him and feel safe when we are working." says Jennifer. What does having Potter's support mean to Jennifer? "I never will be able to fully explain the tremendous amount of support that a dog guide user gets, the feeling of independence is something that no words can ever explain," says Jennifer.
Why should you donate to the Lions Foundation of Canada Dog Guides? No one can tell you better than Jennifer, "Please help Lions Foundation of Canada help people like me gain their independence back and live a richer fuller life with our four-legged companions by our side."