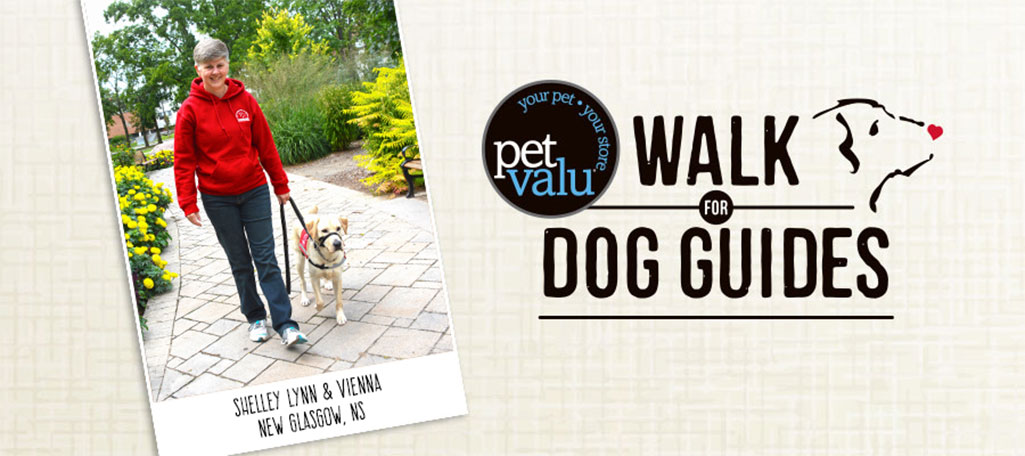 The Pet Valu Walk for Dog Guides
Help Give Canadians a New Leash on Life!
We're proud that the Lions Foundation of Canada Dog Guides is our national charitable partner.
This wonderful organization makes a huge impact in the lives of Canadians with a medical or physical disability, by providing specialized Dog Guides at no cost to those who need them. Every Dog Guide is trained in one of seven specialized programs: Canine Vision, Hearing Ear, Service, Seizure Response, Autism Assistance, Support and Diabetic Alert. Lions Foundation of Canada Dog Guides does not receive any government funding and relies on support from donations and fundraising efforts.
The Countdown is On!
Join us in communities across Canada on May 26th, 2019.
Join Us This Spring!
Join your local Pet Valu, Paulmac's, Bosley's by Pet Valu, Total Pet, or Tisol at the following walks:

(or start your own) and collect sponsorships

Show your support by pledging a donation.

at your local Pet Valu store for a give-what-you-can donation, all proceeds support Lions Foundation of Canada Dog Guides.